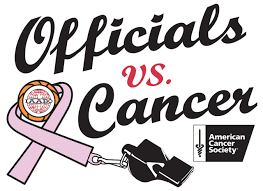 Thank you to for raising nearly $30,000 over the past five seasons for our "Officials vs. Cancer" campaigns. Great job!
Thank you for your efforts in helping us raise over $4000 in 2019.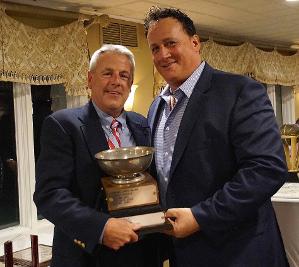 Congratulations to Larry Wiltbank, our 2019 Joe Callano Award recipient!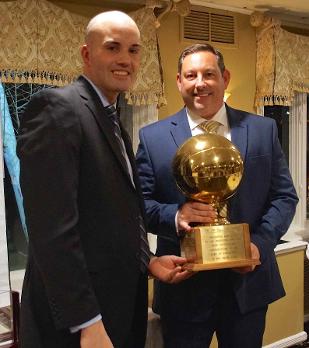 Congratulations to Ed Sarluca, our 2019 Jim Sullivan Award recipient!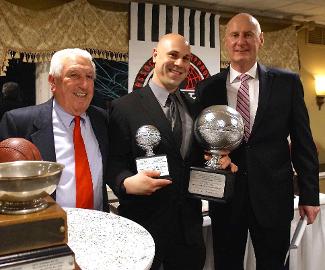 Congratulations to Chris Rizzo, our 2019 recipient of the Lou DeGeorge "Strive for Excellence" Award.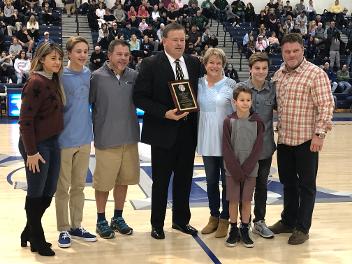 Congratulations to Mike Fogarty, the 2018 recipient of the Arthur W. Harmon, Jr. Memorial Award.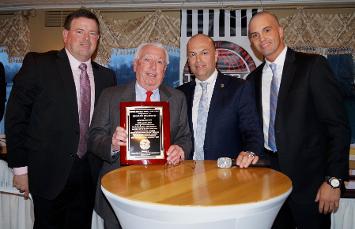 Congratulations to Lou DeGeorge who was honored with "Board Honorary Member" status on March 29, 2018.
He joins Dave Vivino, Bob Delaney, Jack Nies, Joe Palaia and Warren Wolf with this tremendous Board distinction.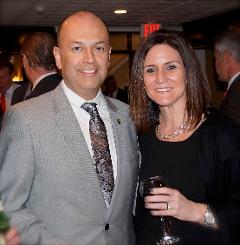 Congratulations to Nelson Ribon, Board #194 Secretary/Treasurer, for being appointed onto the International Association of Approved Basketball Official's (IAABO) Executive Committee. He is serving as our Region 3 (NJ) representative for a 3-year term.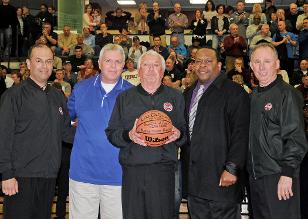 Congratulations to Lou DeGeorge for officiating his final high school game on Sunday, February 22, 2015 during the 2015 SCT Boy's Quarterfinal Round. Lou finished his illustrious 45-year officiating career on a high note with dozens of his fellow officials on hand for his special game at Brookdale CC.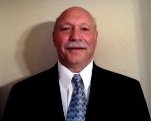 Congratulations to Dennis Millevoi for his induction as an IAABO Life Member on April 25th, 2015 in Rochester NY. This is IAABO's highest honor. Dennis joined IAABO Executive Director Tom Lopes and IAABO Past President Lou DeGeorge as Board 194's only IAABO Life Members!
So You Want to Become an IAABO Official?!
For information on becoming an IAABO basketball official please email us utilizing the Contact Us link above. Application information becomes available in January of each year and closes on March 1st.
Click to view our IAABO Video.
About Us (Updated Dec. 22, 2019)
Shore District Board #194 IAABO trains and provides male and female basketball officials in Monmouth and Ocean Counties in Central and Southern New Jersey. We have a membership of approximately 350 active officials that officiate all levels including all of tCahe Shore Conference high schools within both counties.

Our goal is to continue to improve as well as train all our members in order to provide the best officials on the basketball court in accordance with the IAABO tradition. Shore District Board 194, a non-profit organization, is one of the larger IAABO boards in the country. We value our work ethic in developing, training, and supplying the best officials in the state of New Jersey.

Through your membership in the International Association of Approved Basketball Officials, Inc. you are a member of the only organization of its kind in the world: a nonprofit service and professional organization managed by and for basketball referees. Founded in 1923, IAABO's stated purposes are:
To educate, train, develop, and provide continuous instruction for basketball officials.

To promote the welfare of the game of basketball, its players and officials.

To maintain the highest standard of basketball officiating.

To encourage the spirit of fair play and sportsmanship.

To have available at all times an adequate number of thoroughly trained and capable officials.

To cooperate with all organizations officially connected with the game of basketball in furthering its interests and ideals.
Through a worldwide organization of some 200 local "boards" spanning 38 States and 11 foreign countries, IAABO has been the unparalleled and undisputed leader in worldwide training of basketball officials in the areas of:
Basketball rules

Mechanics and techniques of officiating

Organization of local officials' groups

Development of curricula and standards by which other officials' organizations are judged
Training and education processes are ongoing—augmented by comprehensive written and practical programs, updated annually (or more often as needed). Throughout the year, the IAABO office, in conjunction with nationally acclaimed clinicians, constantly develops and improves teaching and testing techniques.

Recruitment of new members by local organizations is supported by the national public relations efforts of the IAABO office and the reputation of IAABO as the leader in basketball officiating.

CONGRATULATIONS GO OUT TO:
Ranney School Boys NJSIAA Tournament of Champions
Manchester (Group 2) and St. Rose (Non-Public A) H.S. Girls Basketball teams, 2019 NJSIAA State Champions!
Ranney School Boys and Manchester Girls Basketball teams, 2019 Shore Conference Tournament Champions!
Dave Vivino on 60-year Award for the service and membership to IAABO
Wall and Manchester High School Basketball Programs, our 2019 Sportsmanship Award recipients
Nelson Ribon, on his appointment to the IAABO Executive Committee as the Region 3 representative.
CONDOLENCES GO OUT TO:
Tom Pegut on the passing of his brother Larry Pegut on July 3, 2018 OBITUARY
Doug Bloxom on the passing of his mother, Katherine Bloxom-St. George on June 23, 2018 OBITUARY
John & Antoinne Brown & James Smith on the passing of their father/ grandfather/ father-in-law Cecil Copes on May 16, 2018. OBITUARY
Jim Cermak and his family on the passing of Jim's brother John in April 2018.
Paul McEvily and his family on the passing of Paul's wife Nancy on March 22, 2018. OBITUARY
The O'Connor Family on the passing of fellow member Rich on March 3, 2018. OBITUARY
Peter Tobasco and his family on the passing of Peter's father Carmine on February 20, 2018. OBITUARY
Rich Marinelli and his family on the passing of Rich's mother in February 2018.
Vinny Smith and his family on the passing of Vinny's brother James in November 2017.
The Scott Family on the passing of fellow member and Past President Dick Scott on October 9, 2017. OBITUARY
Pete Hawkins and his family on the passing of Pete's son Brian on October 7, 2017. OBITUARY
Lou DeGeorge and his family on the passing of Lou's mother Angela on October 5, 2017. OBITUARY
Tom Surgot and his family on the passing of Tom's brother.
Jim Freglette and his family on the passing of Jim's father James on June 20, 2017. OBITUARY